Being deeply loved by someone gives you strength, while loving someone deeply gives you courage.
Lao Tzu
Rose Damascena
About 5 tonnes of roses are needed to obtain 1 kg (21/4 lb) of
essential oil
, the cost of the oil high, often falsified and adulterated. Geranium, bois de rose, palmarosa and, more recently, gaiac, are used to adulterate rose. As geraniol is one of the principal constituents of rose oil, the
essential oil
often adulterated with geraniol and citronellol. For use in therapy great care must always be taken to obtain the purest rose oil. Most revered.
http://www.mydoterra.com/icando/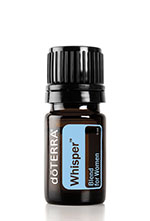 Whisper™
Blend for Women
dōTERRA®'s Whisper is a perfect balance of several CPTG® essential oils unified to impart beauty, femininity, and allure. Containing rose, jasmine, bergamot, cinnamon, cistus, vetiver, ylang ylang, cocoa, vanilla, sandalwood, and patchouli. Whisper's subtle fragrance, once applied, mingles with your individual scent to enhance the essence that is all your own. For topical or aromatic use.
Retail
$32.00