They are addicting and make your home smell like the holidays.
7 – 8 medium sized apples
1 tablespoon sugar or sweetener of choice
6 drops Cinnamon essential oil
Directions:
1. Preheat oven to 225 degrees F.
2. Put parchment paper onto two baking sheets.
3. Combine sugar and Cinnamon essential oil into a small bowl. Stir to combine.
3. Slice apples into thin slices.
Note: Use a mandoline for best results.
4. Place apples onto parchment covered baking sheets in a single layer.
5. Sprinkle apple slices with cinnamon sugar mixture.
6. Place baking sheets in preheated oven for 45 minutes – 1 hour. Flipping the apples halfway.
7. When edges of the apples are curled, take out of oven and place on a wire rack until cooled and crispy.
8. Enjoy!
http://www.mydoterra.com/icando/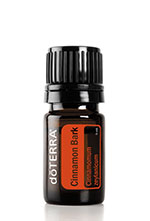 Cinnamon Bark
Cinnamomum zeylanicum
Well-known for its use as a spice, Cinnamon Bark Essential Oil also has many therapeutic benefits. It promotes circulation, helping to alleviate aches and pains, builds and maintains a healthy immune system and has long been used to flavor food and for its internal health benefits.