ill-ness protection popcorn
1 cup of un-popped popcorn kernels
1/8 to 1/4 cup butter

Shaker bottle:
1/8 to 1/4 cup xylitol
2 - 4 drops onGuard
cinnamon powder to taste
Popcorn is popping in air popper, melt butter. Pour over popcorn, shake some salt and shaker bottle mixture over popcorn add nuts as option.
Never get sick. Put a few drops of OnGuard/Melaleuca on feet keeps germs and illness away.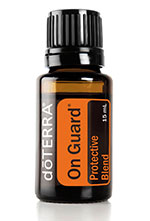 On Guard®
Protective Blend
On Guard is dōTERRA®'s unique, proprietary blend formulated to support healthy immune function. Wild orange essential oil, combined with clove, cinnamon, eucalyptus and rosemary offer a fragrant, natural and effective alternative to synthetic options for immune support. On Guard, with its unique aroma, is one of our most versatile blends. It is also safe to use on counter tops, as a non-toxic way to cleanse surfaces, or to purify the atmosphere by diffusing. On Guard is superb for eliminating and controlling pathogens due to the potency of its constituents. For aromatic, topical, or dietary use.